Our Services
The Milliken Dental Centre offers a wide variety of products and services to help you take care of your smile. Brief descriptions of these treatments are available here, but please feel free to contact us if you require additional information.
PREVENTATIVE TREATMENTS
Regular Cleaning and Check-Ups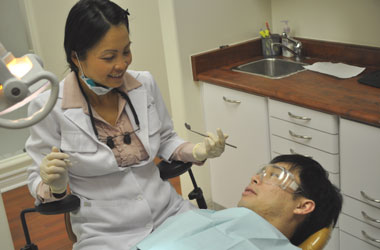 Visiting the dentist on a regular basis is one of the easiest ways to maintain a healthy smile. The majority of our patients benefit from a six month recall program, which consists of two sessions of professional cleaning, polishing, and fluoride treatment per year. However, since every patient is unique, our team of dental professionals will spend a portion of your initial visit developing a personalized recall program to meet your specific oral healthcare needs.
Oral Cancer Screening
This quick and painless procedure is a routine aspect of every dental examination. Since oral cancer originates in the cells of the mouth, throat and tongue, the dentist will look for lumps, sores and tissue related changes in your mouth, head, neck and face.
X-Rays
X-rays are crucial for both diagnosing and treating dental problems. In addition to indentifying existing problems that are invisible to the human eye, x-rays enable dental professionals to discover areas of the teeth that may lead to future problems. Since many patients are concerned about radiation exposure, our office uses a modern form of digital x-ray technology which requires less radiation than traditional x-rays.
COSMETIC TREATMENTS
Sapphire In-Office Whitening
This is a one-visit procedure that is performed by one of our dental professionals. During your one hour appointment, the Sapphire light is used in conjunction with a hydrogen peroxide gel to produce significantly whiter teeth. You will also receive a mouth tray and a supply of Sapphire Whitening Gel for at-home enhancements and touch ups.
Sapphire Professional Home Whitening System
A simple and cost-effective way to whiten your smile in just minutes a day! Renew your smile in the comfort of your own home with a customized whitening tray and a supply of Sapphire Whitening Gel.
Orthodontics
At the Milliken Dental Centre, there are three options for patients who wish to straighten their smile: Braces, Invisalign and Veneers.
Invisalign:
Invisalign is the invisible way to straighten your teeth without braces. Treatment consists of a series of clear, custom-made aligners that you remove only to eat, drink, brush, and floss. Invisalign is perfect for teenagers and adults who wish to discreetly achieve a better smile.
Braces:
A metal device that is used to correct the alignment of teeth and bite-related issues. Braces work by applying constant pressure on the teeth. It is a common misconception that braces are only worn by young teenagers and pre-teens. In reality, braces produce fantastic results for patients of all ages.
Veneers:
Sometimes known as "instant braces," veneers are thin pieces of porcelain that are bonded to the teeth in order to correct stains, chips, and/or gaps. With traditional veneers, the tooth enamal is ground down in order to accomodate the veneer. However, if you wish to improve your smile while preserving the healthy structure of your teeth, our office can provide you with a more constructive option known as Lumineers.
SOLUTIONS FOR MISSING TEETH
Bridge
A bridge is a set of false teeth that is held in place by the surrounding teeth. In addition to the false tooth (or teeth) in the centre, a bridge consists of a pair of crowns placed over the two supporting teeth.
Implant
A dental implant is an artificial root that is used to support a false tooth. Implant surgery can be a very complex procedure, but it yields fantastic permanent results.
Denture
The term "denture" refers to a prosthetic device that is used to replace missing teeth. There are two types of dentures: Complete (a.k.a. "False Teeth") and Partial. In addition, dentures can be either fixed or removable depending upon the patient's needs.
RESTORATIVE TREATMENTS
Crown
Also known as caps, dental crowns are placed over the part of the tooth that sits above the gum line. Crowns are typically used to strengthen severely broken down teeth, as well as to protect teeth that have received a root canal treatment. Crowns (which can easily be made to match a patient's existing tooth colour), typically appear very natural and, thus, can also be used for cosmetic purposes.
Root Canal
A root canal is a very common procedure that is used to treat a diseased tooth. The procedure involves opening up the tooth and cleaning out the infected tissue. Although the opening is always sealed and filled after the treatment, a tooth that has been subjected to a root canal can be quite weak. Therefore, it is always recommended to place a crown over a tooth that has received a root canal treatment.
Composite "White" Fillings
Dr. Yeh and her staff highly recommend that patients choose composite fillings. In addition to being more aesthetically pleasing than amalgam "silver" fillings, composite fillings do not contain mercury and are, therefore, better for your body. For more information about the benefits of composite "white" fillings, please ask one of our staff members